If 'variant' rootworms invade, researchers say, Ontario must be ready.
November 13, 2007 By Top Crop Manager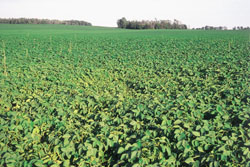 No one wants to see 'variant' corn rootworms in Ontario. Researchers and agronomists,
though, sure are looking hard. That is because, if and when the new rootworms
do build up to harmful numbers, Ontario's tried-and-true rotational cure for
rootworm will no longer keep growers safe from severe root pruning and yield
losses, explains Graham McGregor, agronomist and head of a new rootworm surveillance
program for Monsanto.
"First year corn would be vulnerable just like continuous corn,"
McGregor says. "We'd need a whole new strategy for managing rootworm."
In 2006, Monsanto launched a monitoring program in Ontario that saw growers
in the southwest set out a couple hundred sticky traps to capture adults of
the new variant rootworm strain. It is basically the same program the company
has used in the US to help growers keep ahead of the pest as it hops from state
to state.
To catch the pest, McGregor points out, the traps get set up in fields of soybeans,
not corn. That change alone tells growers almost everything they need to know
about the potential dangers of the variant strain.
Until now, female rootworms preferred corn fields, laying essentially all their
eggs at the base of existing corn plants. From an evolutionary point of view,
it was a survival plan that made great sense. Since these rootworms feed almost
exclusively on corn roots, surely there could not be a better egg-laying site
than where the seed is produced.
However, the plan backfired when growers learned that by rotating their fields,
they could outwit the pest. When eggs that had been laid the last summer at
the base of corn stalks hatched out late the following spring, they found themselves
in inedible soybean fields without a corn root in sight.
Lays eggs in soybeans
The new variant rootworm, however, has turned the tables. Its females often
lay eggs in soybean fields. It is an evolutionary change in behaviour, based
on the frequency of soybeans being rotated in corn the next year.
Variant rootworms have now spread through much of the US corn belt, including
across southern Michigan and into southwestern Ohio. Last summer, Michigan State
University extension entomologist, Chris DiFonzo even found significant root
pruning on first year corn in the very heart of the state, near Lansing.
"I'm not an alarmist," DiFonzo says. "The diverse agriculture
and landscape here means the rootworms are spreading more slowly than they did
in Illinois." At the same time, however, DiFonzo says growers need to know
about the variant strain and be watching for it. "You definitely don't
want to have variant rootworms and not know about it."
In southern parts of Michigan, Monsanto agronomist Rod Stevenson has been helping
growers track the pest with a sticky-trap advance warning program much like
that used in Ontario last summer by McGregor. "We're seeing steady expansion
every year," Stevenson says. "Based on what we've seen, we're expecting
the variant strain will continue spreading throughout the majority of the state."
Where the beetles are confirmed, growers are changing their insect management
but they are not panicking, Stevenson says. "They're taking it in stride,
protecting their first year corn using resistant corn rootworm hybrids or by
using insecticide or a seedtreatment."
Like Stevenson, DiFonzo sees the variant strain as controllable. But, she stresses,
growers need to know before planting whether they should be adopting control
measures. "Ideally, growers should be sampling first year corn fields in
July and August, digging roots and checking for pruning," DiFonzo says.
"Trouble is, nobody wants to dig."
Michigan vs Ontario
In Ontario, Art Schaafsma at Ridgetown Campus of the University of Guelph has
been searching for variant corn rootworms for the past decade. "Every once
in a while, I have been called into a first year corn rootworm complaint,"
Schaafsma says. "So far, we could always trace it back to drought or some
other environmental factor forcing beetles into a non-host crop to feed and
lay eggs. This has more to do with starvation and soil moisture for egg laying
than anything to do with the variant."
Last summer, as part of the Ridgetown program, research associate Jocelyn Smith
sampled 48 first year, non-Bt corn fields in pre-determined high risk areas
from Essex through to Woodstock and into Niagara.
The team found evidence of root feeding in five first year corn fields and
went back to look more intensively for rootworms, this time checking for the
emergence of adults. In two fields – one near the town of Essex and the
other in the Putnam area – adults did emerge, but in low numbers. As well,
the researchers put sticky traps in nearby soybean fields to check for variant
rootworms laying their eggs there. Those traps also showed very low rootworm
numbers.
"The long and the short of it is, we have seen evidence that the variant
is here, but there is no convincing evidence that it has an economic toe-hold,"
Schaafsma says.
Schaafsma believes that, as in Michigan, Ontario's diverse agriculture will
slow the pest. He also believes the variant strain will be held back by Ontario's
three year corn-soy-wheat rotation, compared to the two year corn-soy that helped
it build momentum in the mid-west.
Until variant rootworms are confirmed in economic numbers, Schaafsma believes
growers should keep their current rootworm strategies. "Crop rotation is
still the mainline defense," Schaafsma says. Where growers are planting
continuous corn, especially on loam to clay soils, monitoring adults in the
previous crop can help determine whether to invest in rootworm control for the
following crop, he adds. "This is an old story and it is still true."
Monsanto's McGregor agrees. "I tell growers that it's probably a good
time to familiarize themselves with the technology. A lot has changed since
the last time they may have taken a close look." Across the southwest,
the growers' sticky-trap results were similar to Ridgetown's, McGregor adds.
Analysis of 70 sticky traps found low rootworm numbers in soybean fields. "We'll
continue the monitoring," McGregor says.
"When and where variant populations build up to economic thresholds, growers
need to know it. When that happens, rotation won't be enough to protect crops
from significant yield losses," McGregor says. "Growers will need
solutions." -30-