Fungicides are delivering more than just disease protection.

November 22, 2007 By Top Crop Manager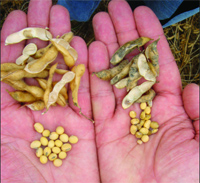 Growers have long relied on fungicides for effective disease control but increasingly, research is showing that some fungicides will improve crop performance under many conditions, even in the absence of significant disease pressure. They improve overall plant health and provide a yield increase in many crops. BASF researchers in the US have found that Headline (a strobilurin fungicide) consistently increases yields on treated crops that exceeds the expected disease protection effect.
"We first started to see differences when we applied Headline on just half a field," says Trevor Kraus, technical specialist with BASF in eastern Ontario. "You could visually see the line between the halves. The colour was different because the leaves treated with fungicide stayed green and remained actively photosynthesizing, while leaves on untreated plants succumbed to multiple stresses and dropped off."
It is not entirely clear why this is happening. Some of the effect is attributed to cumulative yield loss due to minor outbreaks of a variety of plant diseases. A field of soybeans, for
example, might have three or four different diseases at low levels within the crop in any given year. These yield nibblers, while individually insignificant, collectively chip away at yield potential.
Dr. Gary Fellows, technical market manager with BASF in Research Triangle Park, North Carolina, got a shock the first time he walked into a soybean field that had been treated with Headline. "Until you start treating with fungicides, you never realize how much disease is in a soybean field," Fellows says. "I always thought that it was normal for soybean leaves to turn a brown spotty colour when they start to die off. They did in the untreated check strip, but those in plots treated with Headline remained green. When they finally started to die off, they turned a very consistent yellow colour as they slowly cannibalized its energy and shipped it off to other parts of the plant. There's a very different look to them."
Fellows found similar results in corn. Historically, few farmers ever treat corn unless a major outbreak of a disease like southern corn leaf blight occurs. However, corn stands treated with Headline were better in almost every way. The yields were better, the grain was bigger, the stalks were healthier and they stood up better in the wind.
"Even when we're not finding diseases like mildew, frog eye leaf spot or brown spot, when we go out actively scouting fields for disease, we are still getting a yield increase from the
fungicide treated side of the field," Kraus says. "Headline is obviously doing something to the crop that we're not visually able to detect. It's doing something more to improve plant health than simply controlling diseases."
Researchers are just starting to examine how overall plant health affects yield. It is a broad area that requires a new approach. Traditionally studies are done by specialists – pathologists study the effects of crop disease and entomologists study insect damage. Plant health research requires a broader, multi-facetted and multi-disciplined approach.
"We are starting to see more and more projects that delve into whole plant health issues," says Albert Tenuta, a field crop plant pathologist in Ridgetown, with the Ontario Ministry of Agriculture, Food and Rural Affairs.
"If we can understand what the detrimental effects on plant health are and find solutions, then ultimately the producer will benefit. New varieties and products will be developed that will provide healthier plants which means increased yields."
One surprising aspect BASF found in its research is that not all fungicides have the same plant health effects. "Headline has an impact on plant growth efficiency," Kraus says. "A
neat example is a two year study comparing Headline and a triazole fungicide in wheat. In 2004, there was a lot of disease in the wheat. That year, both fungicides showed good yield increases compared to the untreated.
In 2005, there was minimal leaf disease in wheat and we still got a consistent yield increase where we sprayed Headline. The same was not true of the triazole fungicide."
One physiological change Headline supports is to reduce the levels of ethylene in the leaf. "Ethylene is a stress hormone," explains Fellows. "If a leaf is infected with a disease, one of the first things it does is to send out ethylene that tells the plant 'I'm infected, cut me off'. It triggers this response to kill off part of the plant to protect the rest of the plant. The same thing happens in a drought. Reducing ethylene levels means that the plant doesn't react as fast to cut the leaf off. Plants stay a little greener longer and continue to put energy into that seed."
Headline also reduces plant respiration
Plants photosynthesize for energy during the day. They use light to store energy in sugars and release oxygen. During the night-time, plants respire, breaking down some of the sugar to release carbon dioxide to get energy. In a Headline treated plant, there is actually a measurable drop in night-time respiration and whenever it slows down there is a net gain in energy storage for the day.
"BASF has made a very significant investment in researching plant health," Fellows says. "We're doing a lot of research at major universities in Latin America, Europe and North America, looking at the physiological aspects of what Headline is doing to plants. Corn, soybeans, potatoes, sugar beets, fruit trees, berries and vegetable plants all show signs of improved growth when treated with Headline. It's about optimizing the condition of the plant during its life cycle, allowing it to reach maximum yield and quality potential. We want to know all the answers to better utilize the tools we've got and to better understand and explain what's going on within the plant."