News Canola
Updated Saskatchewan Clubroot Distribution Map released
January 15, 2020 By Top Crop Manager
The Government of Saskatchewan and SaskCanola released an updated version of the Saskatchewan Clubroot Distribution Map, which outlines the rural municipalities (RMs) where clubroot has been identified.
Since 2017, visible symptoms of clubroot appeared in 51 commercial canola fields. Since the release of the map in January 2019, eight more fields were added.
In addition, the clubroot pathogen was detected in five fields without visible symptoms in 2019. These results were compiled through ministry surveys or reports or samples submitted to the ministry and SaskCanola by producers and agrologists.
"Clubroot awareness and management is of increasing importance for the agriculture industry," Agriculture Minister David Marit said. "We want to help farmers prevent further spread of the disease. Knowing where clubroot exists in the province helps us do that."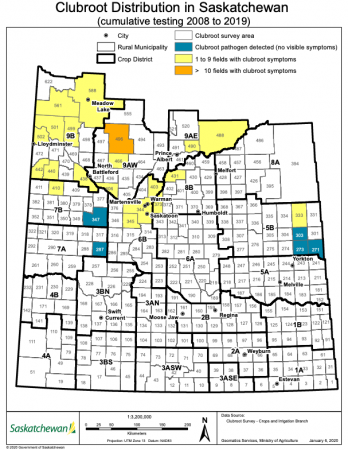 A downloadable version of the map is available at 
www.saskatchewan.ca/government/news-and-media/2020/january/13/clubroot-survey
The ministry and SaskCanola offered farmers the opportunity to take home soil-testing kits to fill and mail in for testing. There were 180 kits submitted and sent to Discovery Labs, where they were tested for the clubroot pathogen. Of these kits, four returned positive results. Visible symptoms were also present in two of the four fields. SaskCanola covered the costs of testing the submitted kits.
"The soil testing kits were a big help in determining where in the province clubroot is located, and we'd like to thank all of the producers who took the time to send one in," said SaskCanola Board of Directors Chair Lane Stockbrugger. "With clubroot's potential to negatively impact the canola industry, this survey is a very important investment for SaskCanola. By actively participating in submitting soil samples, farmers are helping to ensure a stronger, more resilient sector for everyone."
The key to managing clubroot, a declared pest under Saskatchewan's Pest Control Act, is keeping pathogen levels as low as possible to minimize potential impact on canola yields. A proactive and science-based clubroot management strategy should include the use of clubroot-resistant canola varieties in a minimum three-year rotation. An extended crop rotation helps minimize yield losses while protecting the effectiveness of clubroot-resistant canola varieties.
More than 1,700 fields were tested as part of the survey during the summer and fall of 2019. The landowners of all fields with visible clubroot symptoms or the presence of the clubroot pathogen have been contacted. The locations of these fields have also been shared with the appropriate RM office if the RM has enacted a clubroot-specific bylaw.
The ministry is working with RMs and the Saskatchewan Association of Rural Municipalities to ensure a farmer-driven approach to clubroot management. As part of this approach, the landowners and/or producers of fields with visible clubroot symptoms will be required to develop a clubroot management agreement.
This agreement must fit their production practice and include science-based clubroot management strategies for infected fields. All clubroot-infested fields will be monitored by an appointed Pest Control Officer in subsequent years.