News
New Sundre barley breaking barriers
Yield is just one of the barriers that this new six row, smooth awned feed barley is knocking down.


April 8, 2008 By Bruce Barker
Sundre barley from the Alberta Agriculture and Food (AAF) Lacombe Research Station looks like a winner. Known as BT566 during breeding and performance trials, seed grower Bob Mastin won the rights to multiply and sell Sundre barley out of his hometown of Sundre, Alberta in 2006. Now, with two multiplication years under his belt, Mastin believes that Sundre will set the standard for six row feed and forage barleys.
"We had yields over 160 bushels per acre in 2006 and that was with a couple of small hailstorms that the adjuster estimated at a 25 bushel loss. In 2007, it was tougher just about anywhere we had Sundre in production, though. There was too much water early on and then the heat was hard on all the crops, not just Sundre," explains Mastin. "Still, we had Sundre yield 60 bushels per acre on our farm and that might not sound that great, but our next best barley was around 40, so that's still a pretty good yield difference."
Bob Mastin is working to change the seed marketing system.
Sundre has the highest grain yield of any barley ever developed at Lacombe, out-yielding the previous champion, Vivar. It also has one of the highest forage yields, outperforming AC Lacombe and Vivar by a margin of 12 percent. Sundre has excellent disease resistance with multiple gene resistance to scald, and resistance to covered smut and false loose smut. It is rated as moderately resistant to moderately susceptible to net blotch (spot form) and spot blotch, and stem rust.
In 2007, Mastin had Sundre barley grown under contract from Fort Saint John, British Columbia to Virden, Manitoba. He saw yields as high as 138 bushels per acre under irrigation at Iron Springs, Alberta, and 70 bushels per acre on a dryland farm at Govan, Saskatchewan, which was still 15 bushels better than the next best variety there.
Breaking down distribution barriers
Mastin picked up Sundre barley in a competitive bid process conducted by AAF. He turned the system on its head by proposing lower royalty fees in the hopes of increasing certified seed sales. Currently, about 85 percent of barley sown is from bin-run seed. By keeping the royalties low, with Sundre selling slightly more than common seed, Mastin hopes to turn that percentage around and actually increase the overall amount of royalties collected for the plant breeders.
"Sundre barley will have one of the lowest levies of any barley and, with its outstanding yield characteristics, should allow seed growers to sell certified seed at a lower price," explains Mastin. "This should also make a much larger market possible for Sundre barley by eliminating a lot of the common seed problems."
Mastin believes that most barley varieties are killed by high prices in their initial year of release. He explains that history has shown if the price is too high, farmers come with mini bulk bags and pickup trucks to get a few bushels of the hot new variety, and feel justified to multiply out their future supply of common seed.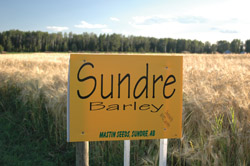 Sundre barley may change feed barley production. Photos Courtesy Of Mastin Seeds, Sundre, Alberta.
By keeping seed costs down and making Sundre easier to purchase, Mastin says farmers will lose their moral and economic justification for breaking the law. However, he says that Sundre has Plant Breeders' Rights which will be enforced if necessary. Mastin says that if farmers still feel inclined to break PBR laws, they will be prosecuted, but he says that what is more important is rather than just breaking a controversial law, they will be sabotaging the most significant attempt to change the unpopular current system.
"Farmers have been complaining about Plant Breeders' Rights as much as they complain about the Gun Registry. Our plan to market Sundre differently could help make the system operate better for everyone," says Mastin.
Sundre certified seed will be available in 2008, although demand has outstripped supply. He had hoped to have 300,000 bushels available, but the difficult growing season resulted in roughly 100,000 bushels of certified seed for sale. Despite only word-of-mouth advertising, Mastin says he has had enough interest to sell between 250,000 and 400,000 bushels of Sundre in 2007/08. After the 2008 harvest, he hopes to have one million bushels for sale.
"Some people tell me this was a coup to be able to land such a good variety as a small seed grower. I tell them it will only be a coup if we make it work," says Mastin. "Everything seems to be heading in that direction, so I feel optimistic about my chances and excited about what this could mean to the future of the seed industry." -end-