From the beginning, agronomy played a major role in McCain Foods' worldwide success.


March 11, 2008 By Yves Leclerc*
McCain Foods founders, Harrison and Wallace McCain, understood that the success of their company would be linked to the development of a strong agronomy program dedicated to the study of the potato crop and the transfer of knowledge to contract growers. While New Brunswick had a long history of potato growing, the varieties grown were not suitable for the production of frozen French fries. As recalled by Wallace in an interview for the book From the Ground Up, "Our first products were greasy and black fries. If there was such a thing as grade F, that's what we were producing."
Research plots at the McCain research farm are harvested.
Photos Courtesy Of McCain Foods.
Today, the McCain Foods (Canada) agronomy team is composed of 10 agronomists located at every potato processing factory in Canada. The role of the agronomist is to provide expert advice on all aspects of potato production and storage. Much of the knowledge shared with the grower community has been developed at the McCain research farm in New Brunswick.
The research farm was established in 1975 in Florenceville, New Brunswick, consisting of about 35 acres of land. Every year, about 10 acres of potato trials are conducted at the site. In addition to the work done on the research farm, field scale trials are conducted with co-operating growers. In the other provinces, potato research is conducted in collaboration with private and public research entities or on-farm by McCain agronomists.
A significant portion of McCain research activities is dedicated to variety development. In collaboration with McCain's global variety development program, the Canadian agronomy program is evaluating dozens of prospective breeding lines from around the world to find a new processing variety. The company's past success in this field has been significant.
In addition to introducing and adapting the long-season variety Russet Burbank in short-season New Brunswick, McCain agronomists have been instrumental in introducing the variety Shepody. Bred by Agriculture and Agri-Food Canada in Fredericton, and released in 1980, Shepody is the most widely grown Canadian variety around the world. McCain agronomists are currently evaluating several new breeding lines commercially across Canada.
Post-harvest physiology has been a success story for the McCain Foods agronomy research program, as well. As a result of work conducted in the 1980s by McCain Foods on the chemical maturity of Russet Burbank, the company now has the knowledge and understanding of the mechanisms regulating French fry colour and can now provide growers with recommendations that will ensure near perfect colour.
Fertility research has been an important research topic since the beginning. An extensive study was recently completed on the nitrogen management of the two major processing varieties (Russet Burbank and Shepody). This collaborative work, undertaken with Dr. Bernie Zebarth of Agriculture and Agri-Food Canada and McCain Foods (Canada), was designed to understand the nitrogen cycle in the potato production system in eastern Canada, develop the agronomy tools required to better manage this nutrient and optimize the nitrogen fertility of Russet Burbank and Shepody.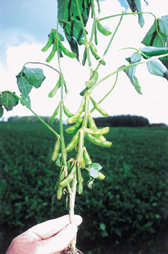 Plot planting at the McCain research farm.
From this study, a nitrogen management strategy for eastern Canada was developed to optimize yield and quality of these varieties, while minimizing the environmental losses of nitrogen, including nitrate leaching in groundwater and nitrous oxide emission. Results of this study have been published in peer-reviewed scientific journals, and Best Management Practices (BMPs) guidelines have been prepared for use by growers. McCain Foods agronomists in eastern Canada are now using these BMPs to provide growers with state-of-the-art fertility recommendations and to track grower nitrogen use. Similar work is currently underway in Manitoba.
McCain agronomists on Prince Edward Island have been working very closely with a number of contract growers, who are also large hog producers, to validate nutrient management guidelines and recommendations for hog manure applications in potato production systems. After several years of trials, the guidelines and recommendations have been validated and BMPs for manure use in potato production have been established. The implementation of these BMPs has improved the raw potato quality for a local factory, allowed growers to significantly reduce their inputs of inorganic fertilizer, and has reduced the nutrient load on the soil and water environment.
Pest and disease management is also a constant topic of research. For the past four years, McCain Foods (Canada) has conducted several research trials to evaluate the efficacy of a number of reduced risk pesticides for the control of Colorado potato beetle and European corn borer. After demonstrating the efficacy of these products in research plots, McCain Foods (Canada) agronomists are now recommending the use of these products whenever applicable. The use of reduced risk pesticides directly benefits the environment by reducing the impact of pest and disease control measures. Similar work has been conducted on fungicides. McCain Foods is also evaluating a decision support system for late blight disease management.
While McCain agronomists are involved in research and development, their primary function is to provide extension support to contract growers to help them grow and store their potato crop. This support is provided through the CropMET and StorMET programs. Based on the concept 'If you can't measure it you can't manage it', these programs are designed to help growers measure their agricultural practices to better manage them. The short-term objective of these programs is to measure key production and storage practices as they are performed. These programs have allowed McCain agronomists to improve yields and quality.
The CropMET program is also an effective conduit to introduce the Integrated Pest Management (IPM) concept on the farm. Agronomists use the IPM strategy to provide growers with information and recommendations on field specific pests and diseases.
The efforts of the McCain agronomists are now extending to the internet, with the development of web based tools for growers such as the Pesticide Information Database. McCain agronomists have recently created a database of crop protection products registered for use on potatoes in Canada. The database provides growers with detailed information on pesticides and their use. Information includes, for example, pesticide efficacy data, the environmental profile (toxicology) of each active ingredient, and the necessary precautions growers need to take when handling and applying these products. The database is available to all contract growers via the internet at: www.mccainagportal.com
After a half century, McCain Foods continues to expand its focus to include new technology and ways of sharing that technology with growers while not losing sight of its main ingredient: potatoes. -end-
*Yves Leclerc is director of agronomy for McCain Foods, based at Florenceville, New Brunswick.