Tractors
FARM EQUIPMENT REVIEW: November 2005 W
TRACTORS
November 29, 2007 By Top Crop Manager
Over the last year, dozens of new models
and designs of farm machinery have been introduced by manufacturers. Many of
you will have seen these introductions at farm shows and in various industry
announcements – but, can you remember the details? This feature provides
a reference for you.
Peter Darbishire, Editor
While Top Crop Manager editors make
every effort to be objective when reporting on new products, they cannot be
held responsible for claims made by companies. Readers are encouraged to contact
the companies for more details.
Series has eight models
John Deere says unmatched power, performance and fuel economy are the hallmarks
of its new 8030 series tractors. Eight models comprise this line of tractors,
which bring increased efficiency to the field, allowing operators to get more
done in less time. Plus, the 8530 tractor, rated at 275 PTO horsepower, is the
most powerful row crop tractor ever built in the agricultural equipment industry,
says the company. Available in two-wheel drive, mechanical front wheel drive
(MFWD), MFWD with Independent Link Suspension (ILS), and track configurations,
these tractors are designed to the following specifications:
The model 8130 (2WD/MFWD/ILS) has 180 PTO horsepower and 16 speed PST or IVT
(PowerShift or Infinitely Variable) transmission. Three-point hitch capacity
(base/option) is 12,400/15,200 pounds and tank capacity is 180 gallons. The
model 8230 (MFWD/ILS) has 200 PTO horsepower and 16 speed PST or IVT transmission.
Three-point hitch capacity (base/option) is 12,400/15,200 pounds and tank capacity
is 180 gallons. The model 8330 (MFWD/ILS) has 225 PTO horsepower and 16 speed
PST or IVT transmission. Three-point hitch capacity (base/option) is 13,800/15,200
pounds and tank capacity is 180 gallons. The model 8430 (MFWD/ILS) has 250 PTO
horsepower and 16 speed PST or IVT transmission. Three-point hitch capacity
(base/option) is 17,300/18,300 pounds and tank capacity is 180 gallons. The
model 8530 (ILS only) has 275 PTO horsepower and IVT transmission. Three-point
hitch capacity (base/option) is 18,300 pounds and tank capacity is 180 gallons.
The model 8230T (Track) has 200 PTO horsepower and 16 speed PST transmission.
Three-point hitch capacity (base/option) is 15,200 pounds and tank capacity
is 130 gallons. The model 8330T (Track) has 235 PTO horsepower and 16 speed
PST transmission. Three-point hitch capacity (base/option) is 15,200 pounds
and tank capacity is 130 gallons. The model 8430T (Track) has 255 PTO horsepower
and 16 speed PST transmission. Three-point hitch capacity (base/option) is 15,200
pounds and tank capacity is 130 gallons.
With more power, improved engine response and up to a 43 percent PTO torque
rise, the operator will get more efficient performance from these engines, according
to Deere. Engine efficiency is enhanced with a new cooling package, including
the patented Vari-Cool fan drive and cooling system. The mechanical-type fan
runs only at the necessary speed to match cooling requirements of the tractor.
This variable speed design allows for greater efficiency and power.
Two transmission options are available on the 8030 series tractors. The 16
speed PowerShift is base equipment on all models except the 8530 tractor. This
field-proven transmission, with 16 forward and four reverse speeds features
automatic shifting, which saves fuel under varying conditions. Updated 'closed-loop'
shifting improves overall shift performance. The new Infinitely Variable Transmission
(IVT) with right hand reverser is base equipment on the 8530 tractor and optional
on other 8030 series wheel tractors. This transmission offers seamless shifts
without clutching and unlimited speed choices from 0.03mph to 26mph. An optional
left hand reverser is also available to meet differing customer needs and to
enhance overall operation of the IVT.
The 8030 series tractors feature the large CommandView cab. The John Deere
CommandCenter and sound resonators enhance quietness in the cab environment.
New to the 8030 series tractors are the optional GreenStar Display (GSD) 2100
or 2600 colour monitors that show critical tractor functions. Designed with
push-button controls and a touchscreen on the GSD 2600, the new displays are
mounted within easy reach of the operator. Remote display controls are conveniently
mounted in the CommandArm of the tractors. The GSD also operates guidance systems
such as GreenStar AutoTrac, which is fully compatible and highly integrated
with the 8030 series tractors. A new GSD connector enhances component mobility
from machine to machine and allows easy plug and play in all new John Deere
tractors.
A new hydraulic system with redesigned hydraulic pump circuits, two filters
and a 1500 hour service interval, increases hydraulic oil flow at lower engine
rpm, which adds responsiveness for all hydraulic functions and steering, especially
with front dual wheels. A new Category 4 narrow three-point hitch with a convertible
Category 4 narrow (convertible to Category 3) quick coupler allows operators
to adapt to strip-till or no-till practices that use heavier implements and
seeding tools. The new hitch combined with a beefier quick coupler and the higher
horsepower 8530 tractor (275 PTO horsepower) adds more flexibility and efficient
practices.
John Deere
Series built for agility too!
The economical Valtra A series tractors, with three models in the popular 70
to 100 horsepower range, a tight turning radius and a front/rear weight ratio
ideal for loader balance, are perfect for use around livestock facilities, says
AGCO. Their low weight-to-power ratio makes them equally suited for use in hay
production and other crops where compaction is a concern.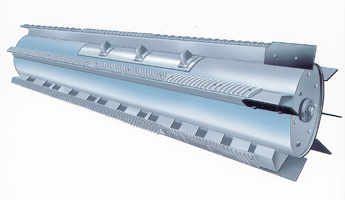 The engineering of the turbocharged SisuDiesel engines let 'A' series operators
get maximum power and torque at lower rpm with less noise, lower fuel consumption
and reduced maintenance. Based on ISO 14396, an internationally recognized standard,
the three cylinder A75 produces 74 engine horsepower (54kW), the four cylinder
A85 produces 88 engine horsepower (65kW) and the four cylinder A95 produces
98 engine horsepower (72kW).
The SisuDiesel engine equipped Valtra A series delivers torque across the power
range, reaching maximum levels at only 1400rpm. At that engine speed, operators
can draw on 219ft.lb of torque with the A75, 238ft.lb of torque with the A85
and 264ft.lb of torque with the A95. The Fortius model engine features wet cylinder
liners for more power and mid-cylinder supports for 75 percent less vibration
and less wear.
Agility is also important, especially when it comes to loader work around livestock
facilities. The 'A' series offers a tight turning radius and a rugged 12F x
12R transmission that is fully synchronized for smooth and easy changes in speed
and direction. All three models are equipped with mechanical forward and reverse
shuttle and are available with a push-button clutch control and left hand or
right hand placement of the shuttle lever for operator ease. The transmission
features three ranges with four main gears, including creeper gears. The optional
HiShift button-operated clutch control can be ordered for even easier gear change
and repetitive direction changes. HiShift replaces depressing the clutch pedal
with a press of a button. The electronic action is smoother than manual clutching
and easier on both transmission and clutch pack, further extending component
life while reducing driver fatigue.
All three models are available in two-wheel drive and with mechanical front
wheel drive (MFWD). Electro hydraulic MFWD activation is standard. Rear differential
lock (front differential is fully automatic) is engaged and disengaged with
the flick of a switch.
'A' series hydraulics offer two remote valves standard and the option of two
more. A 14.5gpm (55L/m) pump provides power for the lifting capacity of 6173
pounds (28kN) or 7275 pounds (33kN) with the optional auxiliary lifting cylinder.
Electronically controlled 'autocontrol' lift linkage is also available, another
premium option in this tractor class. The rear three-point hitch lifts 7260
pounds (3296kg) and, if equipped, the front mounted three-point hitch will lift
up to 6393 pounds (2902kg) on the A85 and A95.
Cab options include a standard cab, a reduced height cab and a wider (interior
dimensions) cab. All three offer a seat that rotates to the right 25 degrees
for easy viewing of trailing implements or 180 degrees for operating rear-mounted
equipment such as a backhoe. Large doors allow easy access and all the main
controls are ergonomically located for easy reach.
AGCO Corporation
Power and performance
New Holland's TM series tractors are now offered in two new configurations with
simpler to operate mechanical controls. The new 105 PTO horsepower TM130 and
the 115 PTO horsepower TM140 models feature mostly mechanical controls instead
of electronic controls to meet the needs of producers who desire simplicity
and economy. For example, these tractors feature a two-lever mechanical hitch
and draft controls and a push-button mechanical fast raise/lower switch.
The TM130 features 105 engine PTO horsepower and a three-point hitch lift capacity
of 8000 pounds. The TM140 features 115 engine PTO horsepower and a three-point
hitch lift capacity of 9050 pounds. The 20 x 16 mechanical transmission is simple
and rugged. It features four ranges with five synchronized gears per range,
with 12 speeds in the 2mph to 8mph working range. A mechanical fully synchronized
right hand forward/reverse shuttle lever enables fast cycle times during loader
and blade work. FWD is standard equipment on both models.
A high capacity, open centre hydraulic system gives ample hydraulic flow for
full control over both tractor and implement with a 14gpm implement pump and
a separate 10.5gpm steering pump. To control position, draft or float easily,
the three-point hitch features manual hitch position and draft control. A mechanical
fast-raise-and-lower system raises and lowers the implement with simply the
push of a button. Like all TM series tractors, the cab is spacious and comfortable.
All routine service checkpoints on the TM130 and TM140 are easily accessible
and hassle-free.
New Holland
More horsepower from 4.5L engine
Four cylinder engines pack more power into New Holland's latest additions to
the TN-A series tractor line. The 4.5L four cylinder engine provides response
and impressive lugging power, with a 37 percent PTO torque rise. Maximum fuel
efficiency and quiet operation are built right into the design of this powerhouse
engine. The TN85A model is powered by a naturally aspirated 4.5L engine, with
69 PTO horsepower, while the TN95A model features a 4.5L turbocharged engine,
delivering 77 PTO horsepower.
TN-A models have a foldable ROPS, while TND-A models feature a cab with a deluxe
air filtration system, a feature that is standard equipment. The air filtration
system makes spraying, mowing and baling applications clean and comfortable
thanks to anti-pollen filters, tighter sealing and high cab pressurization.
Transmission choices include a mechanical 12 x 12 Synchro Command transmission
or the 16 x 16 fully synchronized Synchro Command Plus transmission (TN85A/TN85D
only). The 12 x 12 Synchro Command transmission provides four synchronized speeds
in each of three ranges. The 16 x 16 Synchro Command Plus transmission permits
greater speed versatility for a wide variety of jobs including eight speeds
in the 2mph to 8mph working range, as well as three speeds below 1mph for low
speed applications. Both models are available with either a mechanical shuttle
or a clutchless power shuttle featuring steering column-mounted forward/reverse
shuttle control. The power shuttle takes the hassle out of frequent forward-reverse
shifts when using a loader.
Service is easy with combined engine oil fill/check, battery and engine air
cleaner in front of the radiator and one-point hydraulic/transmission oil check/fill.
The hood pivots open on an assist-strut. There are no side panels to remove.
New Holland
Productivity a plus
AGCO says commanding technology combines with innovative engineering to raise
efficiency and productivity to a higher level with four new AGCO DT series tractors.
The DT180A, DT200A, DT220A and DT240A models are equipped with the revolutionary
PowerMaxx CVT (continuously variable transmission), a 39gpm hydraulic system
and new, more powerful AGCO engines. Dynamic Datatronics III software and more
ergonomic placement of controls in the cab along with other upgrades offer operators
more control and more comfort.
The PowerMaxx CVT, with its infinite speeds, saves time and gets more efficient
fuel use from the DT's 159 gallon fuel tank. The transmission offers operators
a level of control that keeps the engine and transmission operating at peak
efficiency. The CVT combines both hydraulic and mechanical power to create infinite
speeds and more efficiency. Two ranges, one geared for heavy fieldwork and the
other for transport, allow precise speed selection as low as 60ft/hr or as fast
as 40km/hr (25mph). With the PowerMaxx CVT, DT tractors can be operated at peak
field speed, yet at the most productive rpm. The CVT allows operators to control
the ground speed with the joystick mounted on the right hand armrest or the
shuttle lever mounted on the left side of the steering column. A foot pedal
allows the operator to increase both engine and transmission speed at the same
time. Multiple programmable speed settings improve efficiency and productivity.
Within each range, an operator can preset one engine speed for field operations
and a slower engine speed for turning at the headlands. Engine speed changes
can be accomplished simply by pressing a button, no downshifting is needed.
Forward and reverse take-off start-up speeds can also be preset when using the
shuttle for loader work or other repetitive direction changes.
The DT180A (180 PTO horsepower) and DT200A (200 PTO horsepower) are powered
by the new AGCO 7.4L diesel engine. The AGCO 8.4L diesel engine powers the DT220A
(220 PTO horsepower) and the DT240A (240 PTO horsepower). Both engines are turbocharged
and inter-cooled and are EPA Tier II emissions certified. The single-piece cast
iron block serves as a structural component of the tractor frame, reducing vibration
and engine noise and improving turning radius. Electronic Engine Management
(EEM) is a standard feature of both engines and allows the operator to preset
two engine speeds. Engine speeds can be fine-tuned by adjusting the settings
in increments of 10rpm or can be controlled with the hand throttle.
The DT hydraulic system has been boosted by 34 percent with a 39gpm flow rate
at 2900psi. Even the standard Spool Valve Management System (SMS) has been improved.
The SMS joystick still controls two electro-hydraulic rear spool valves. Now
it can also be quickly configured to control a third function such as a grapple
fork on a loader. DT tractors equipped with GTA Console I and Datatronics III
software allow operators to make precise flow adjustment on up to five hydraulic
remotes from the cab. The advanced control system also enables the Trailed Implement
Control (TIC) operating system. TIC optimizes tractor performance while reducing
tire wear and fuel consumption by monitoring and adjusting for ground speed
and wheel slippage. The Dot Matrix display based control system uses SMS to
provide a mini-headland management system. The display is located on the dash
with controls on the steering column. Dot Matrix makes it easy to identify and
adjust SMS joystick controlled hydraulic remotes. A memory system allows the
operator to record and replay input and output flow rates on the two spool valves.
AGCO Corporation
Tier III clean burn
John Deere has introduced new PowerTech Plus 9L engines for its new 8030 series
tractors. They are 11 percent larger in displacement than their predecessors
and the most powerful crop tractor engines the company has produced. They are
also cleaner burning, meeting Tier III regulations. The new engines will provide
a two to five percent reduction in fuel consumed when compared to models they
replace, says Deere. The engines feature a new technology that includes a variable
geometry turbocharger (VGT), cooled exhaust gas recirculation (cooled-EGR) and
four valves per cylinder.
The new six cylinder diesel engines are rated at 2100rpm for improved fuel
economy and reduced noise. They feature an 11 percent power bulge at 1800rpm
and a 40 percent torque rise at 1600rpm to help the tractor pull through the
toughest field conditions. New high strength steel pistons with directed oil
cooling and a hardened steel camshaft with roller followers add to the increased
durability of the engine.
The VGT is designed with variable turbine inlet vanes that adjust according
to power requirements. At low speeds and high loads, the inlet vanes close to
a narrow position to increase boost and power; at high speeds and lower loads,
the vanes open for increased efficiency. This translates into an extremely efficient
system that adjusts infinitely to power requirements in the field.
Cooled-EGR mixes cooled exhaust gas with the intake air. This innovative design
lowers temperatures by reducing oxygen and controls emissions without retarding
injection timing. The bottom line is that cooled-EGR enables the engine to meet
Tier III regulations without degrading performance or increasing fuel consumption.
The engines also feature a new fuel filter system with Auto-Prime. This design
eliminates hand priming and filter prefilling when changing filters. A fuel
pressure sensor alerts the operator that a filter change is needed. -30-
John Deere
Backing bittering agent to antifreeze
John Deere says it supports recent legislation requiring the addition of a bittering
agent to antifreeze and engine coolants. John Deere is also adding Bitrex bittering
agent into John Deere Cool-Gard antifreeze.
The Antifreeze Bittering Act (H.R. 2567/S. 1110), introduced in both the Senate
and House of Representatives recently, requires engine coolant and antifreeze
manufactured or sold in the US that contains more than 10 percent ethylene glycol
to include a bittering agent, thus making it unpalatable to animals and children.
Supporters of the bill say costs involved with adding the bittering agent would
be minimal, but it would greatly reduce the risk of animals and children ingesting
the harmful products.
Bitrex is the brand name of a compound called denatonium benzoate, the world's
most bitter substance. The extremely bitter taste it generates provides a natural
warning, to man and animal alike, that discourages swallowing. Macfarlan Smith
Limited discovered Bitrex in 1958. It was first used in denaturing alcohol,
making it legally unfit for consumption. Today, it is used as a safety additive
in a wide range of automotive, household, pesticide and garden products.
John Deere
More muscle
Case IH has added two new configurations to the MXM series Maxxum tractor line.
The MXM130 and MXM140 models offer new configurations: the MXM130 offers a 105
PTO horsepower rating, while the MXM140 has a 115 PTO horsepower rating. Both
are powered by the proven 7.5L engine which supplies excellent torque response
and fuel economy. Customer input indicated that some farmers are looking for
simpler operational features to better match their operations. Case IH responded
by adding new MXM series tractor configurations with a majority of mechanical
controls versus electronic. Examples include mechanical right hand transmission
and shuttle controls, and mechanical hitch and draft controls.
The 20F x 16R transmission provides four ranges, five synchronized gears and
12 speeds in the 2mph to 8mph working range. A smooth operating, synchronized
shuttle delivers fast cycle times when performing repetitive tasks. The power
transfer includes a heavy-duty 13 inch clutch assembly for added durability
under tough working conditions.
The new models include an open centre hydraulic system with a 14gpm implement
pump and a separate 10.5gpm steering pump for more than ample flow when operating
tillage or harvesting equipment. The simple three-point hitch lift incorporates
manual hitch control with manual position and draft control. This enables the
operator to easily control position, draft or float with easy-to-operate controls.
For quick manoeuvers, like headland turns, the mechanical fast raise and lower
system allows quick response at the push of a button without altering load or
position settings. Lift capacities are 8000 pounds for the MXM130 and 9050 pounds
for the MXM140, with standard equipped telescoping line ends for easy hook-up.
Case IH
Cabs add comfort
Two new Case IH models, the JX1085C and JX1095C beef up the top end of the popular
JXC line of utility tractors. The Case IH JX1085C packs 69 PTO horsepower into
its four cylinder engine, which also features a 32 percent torque rise rating.
This delivers excellent power response at low speeds with enhanced fuel efficiency.
With its low-slung design, 86 inch wheelbase and overall length of 157 inches,
it is ideally suited for hay making and livestock operations. The JX1085C provides
excellent visibility for the operator and manoeuverability in close quarters.
Like its sibling, the Case IH JX1095C also features a four cylinder engine,
similar length and wheelbase measurements and optimum visibility. Its turbocharged
engine tops the JXC line with 77 PTO horsepower and a 37 percent toque rise.
Both models share features that deliver more operator comfort and productivity
to a variety of tasks. The upgraded cab design provides an improved filtration
system which traps pollen and other allergens before they reach the cab.
In addition to the boost in horsepower, JXC series productivity is upgraded
with a wider selection of transmissions, both mechanical and full power shuttle
are available, and a mid-mount hydraulic valve setup, ideal for loader work.
When teamed up with a Case IH LX232 loader, these models become dynamic workhorses
around the farmstead. They are ideal for cleaning barns or poultry houses, moving
materials, or handling feed and forage. With 3900 pounds of breakout force,
2600 pounds of full-height lift capacity and a maximum lift height approaching
10.5 feet, this combination gives you the power and lift capacity you need to
complete all jobs quickly and efficiently. Even more, the optional mechanical
self-levelling feature on the LX232 loader further enhances the productivity
and dependability of this combination.
Case IH