News
FARM EQUIPMENT REVIEW: Harvest machinery
Harvest machinery
November 13, 2007 By Peter Darbishire
Over the last year, dozens of new models and designs of farm
machinery have been introduced by manufacturers. Many of you will have seen
these introductions at farm shows and in various industry announcements –
but, can you remember the details? This feature provides a reference for you.
Peter Darbishire, Editor
While Top Crop Manager editors make every effort to be objective
when reporting on new products, they cannot be held responsible for claims made
by companies. Readers are encouraged to contact the companies for more details.
Rotor boosts productivity
The Controlled Dynamic Flow (CDF) rotor from Gleaner is designed to improve
crop flow, reduce cob breakage in corn and enhance harvest of green-stem soybeans.
Gleaner's 'natural flow processing system' moves the crop ribbon-like through
the threshing system without dramatic changes in direction for higher quality
grain in the bin. The enclosed CDF rotor maintains crop flow and can reduce
power required in some field conditions. The new rotor is available as a factory
installed option on new R65 and R75 combines. It also can be field installed
on R75, R65, R55 and older combines, including the R42, R52, R62 and R72. The
enclosed rotor design enhances crop flow in corn, reducing material other than
grain from reaching the grain shoe, improving cleaning capacity and reducing
non-grain levels in the grain tank.
The CDF rotor, with six rows of bars instead of the standard eight rows, helps
combine operators meet the challenge of modern soybean varieties, which increasingly
produce mature dry pods while plant stems remain green. While the six bars are
sufficient to release beans from their pods, they produce less pressure on the
green stem plant material moving between them and the cage. This reduced pressure
means less friction and less power is needed to maintain crop flow while more
power is available to maintain optimum ground speed.
Field installing the CDF rotor allows Gleaner owners to adapt the new technology
to existing combines. Packages are available with and without bars. -30-
Gleaner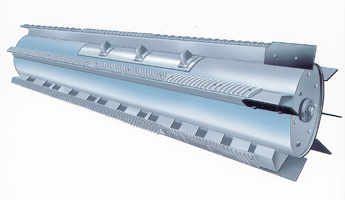 Chopping system available
John Deere has introduced the new StalkMaster corn head chopping system to efficiently
size and chop cornstalks while harvesting grain. This integrated system is specifically
designed for use on eight row, 30 inch row spacing and 12 row, 22 inch row spacing
corn heads. Intended to promote faster residue decay, the chopping blades rotate
at a speed dependent on the corn head gathering speed rotating up to 3300rpm
to size and cut stalks. This system features a robust gearbox unit for each
row with two durable rotary chopper knives that can be easily removed if chopping
is not needed.
The chopping system requires additional horsepower to perform the stalk chopping
process compared with regular corn heads. For this reason, Deere recommends
that the combine should be equipped with a high torque, variable speed feederhouse
drive system, which is available on the new bullet rotor STS combines as well
as a retrofit attachment for prior 60 series models. -30-
John Deere
Updates enhance 60 series
John Deere has made updates to the 60 series STS combines, including a new 'bullet'
rotor for increased threshing performance, a new design for improved engine
airflow, a higher torque feederhouse drive for improved feeding and other enhancements.
The new bullet rotor technology allows for easier crop flow through the threshing
system, reducing rotor power requirements and allowing for faster field speeds.
The rotor is designed with a stream lined 'bullet' nose profile, which provides
more space to allow high volumes of crop material to smoothly enter and to be
distributed evenly. Rotor power requirements are reduced and material handling
is improved by as much as 20 percent in tough, small grain conditions. The smoother
crop feeding will also reduce rotor 'growling' at high feed rates and allows
longer harvesting hours in the field, even in damp conditions.
A new high torque, variable speed feederhouse drive enables the 60 series combines
to handle large cornheads in higher yielding crops. Bigger cams with a more
aggressive ram angle and a hefty coil spring allow for optimal high torque sensing
and deliver 50 percent more clamping load to the drive belt. Oil capacity in
the gearbox has increased 25 percent and grease capacity by over 300 percent.
These changes will dramatically reduce belt slippage, gearbox over-heating and
belt breakage. The new design improves overall feederhouse performance to ensure
excellent feeding into the threshing system.
With the introduction of larger header equipment and larger separators, growers
are concerned about evenly spreading the straw residue for no-till and reduced
tillage operations. A new optional PowerCast straw chopper tailboard is available
for STS combines to effectively spread material up to 50 feet. Hydraulic motors
power two, large variable speed impellers, which engage the residue coming out
of the straw chopper and provide a power spreading boost to the discharged residue.
Spread width is easily controlled by the operator on-the-go from the cab.
A new, optional folding unloading auger will be available on the larger STS
combines. The operator simply touches a button on the armrest control to fold
and unfold the auger. The length of the combine is reduced nearly eight feet
in the folded condition making transport manoeuverability and storage much easier.
Other changes include increased grain tank capacity on the 9560 STS combine
to 250 bushels, an additional 30 bushels over the standard grain tank size.
Also, the fuel tank on the 9860 STS combine has been increased by 220 litres,
a total fuel capacity of 1220 litres. New cab lights improve harvesting visibility
at night and batteries have been relocated at ground level for easy accessibility
and serviceability. -30-
John Deere
New capacity in the east
This CAT Lexion 580R is one of several new combine models that took to Ontario
fields for the first time in October 2005. Seen here fitted with a 40 foot flexible
cutterbar head in soybeans near Listowel, Ontario, the 580R is powered by a
425 horsepower CAT C-13 diesel. The combine has three transverse-mounted threshing
cylinders. The first cylinder is fitted with pads and it accelerates and pre-separates
the crop, threshing out 30 percent of wheat and a high percentage of a bean
crop, says Paul Storey of Vincent Farm Equipment in Seaforth, Ontario. A second
cylinder is the main threshing cylinder, which resembles a conventional cylinder.
A third 'chevron' cylinder separates out straw before the crop material enters
two in-line parallel-mounted rotors that separate the remaining grain. The relative
speed of the first, second (main) and third cylinders is 90 percent, 100 percent
and 110 percent.
There are six rotary design models: 560R, 570R, 575R, 580R, 585R and 590R,
plus a conventional threshing cylinder and straw walker model, the 560. Certain
models feature the Jet Stream grain cleaning system: airflow from beneath two
sieves distribute and separate grain from other crop material. Other models
have a standard sieve cleaning system. An option is a 3-D sieve system to improve
capacity on sloping terrain up to 20 percent.
As well as models using the 40 foot header, a 12 row corn header has also been
at work in the Seaforth area in the last couple of months. -30-
CAT Lexion
Stylish cab and comfort
Five Case IH WDX '2' series windrower models, ranging from 98 to an industry-leading
225 horsepower, and two cab styles, offer a choice for every type of operation.
The windrower pioneers the first spring-mounted cab suspension system, as well
as an independent rear axle suspension system to improve ride and reduce operator
fatigue at faster cutting speeds.
The new Case IH deluxe cab models feature an updated look with curved, tinted
glass panels for unobstructed visibility, especially on sunny days. Operators
will also enjoy a deluxe air suspension seat with a special ride dampening feature;
a floating, right hand control console that moves with the seat; a tilt and
telescoping steering wheel; and a standard instructor seat.
The deluxe cab models use a dual speed hydrostatic transmission. A Case IH
six cylinder, air-to-air intercooled, wastegate turbocharged engine with electronic
fuel injection for improved engine efficiency and fuel economy powers the WDX1902
and WDX2302, rated at 186 and 225 horsepower, respectively. The engines offer
the power needed to handle heavy loads, wet conditions and hillsides without
slowing down.
The two standard cab models, the WDX1002S and WDX1202S, offer a traditional,
iso-mounted cab with tinted glass panels; a standard, adjustable air suspension
seat; tilt steering and optional instructor seat. The standard cab models use
a single speed hydrostatic transmission and a new Case IH four cylinder, wastegate
turbocharged engine with mechanical fuel injection. The engine is rated at 98
horsepower for the WDX1002S and 120 horsepower for the WDX1202S. The WDX1202
with deluxe cab shares the same engine as the WDX1202S.
Improved control that comes with standard hydraulic header flotation, includes
the ability to adjust the header from the seat of the tractor cab. In addition,
hydraulic header tilt is optional on WDX1002S and WDX1202S and standard on the
WDX1202, WDX1902 and WDX2302.
To complement the new windrower offering, Case IH has also launched a new disc
header model and a whole new line of draper heads. All Case IH headers feature
a roll pressure system that uses a torsion bar to apply consistent force to
the upper conditioning roll arms, regardless of crop thickness for uniform conditioning.
It also allows the machine to easily clear slugs. In addition, the floor of
all headers has been redesigned to deliver consistent crop feed and flow to
the auger.
Five new DHX '2' series draper header models, with cutting widths from 18 to
36 feet, are available for cereal grains and specialty crops. A choice of two
cutterbar systems allows for improved productivity in green crop and grain applications.
-30-
Case IH