Tractors
FARM EQUIPMENT REVIEW: February 2007
Guidance systems and electronics
November 20, 2007 By Peter Darbishire
Over the last year, dozens of new models and designs of farm
machinery have been introduced by manufacturers. Many of you will have seen
these introductions at farm shows and in various industry announcements –
but, can you remember the details? This feature provides a reference for you.
Peter Darbishire, Editor
While Top Crop Manager editors make every effort to be objective
when reporting on new products, they cannot be held responsible for claims made
by companies. Readers are encouraged to contact the companies for more details.
Tracks strongest signal
CSI's Hemisphere GPS division has introduced its new SBX-4 differential GPS
(DGPS) beacon module. It is the newest DGPS beacon module in Hemisphere GPS'
SBX series.
The SBX-4 is designed for use by original equipment manufacturers (OEMs) who
need to integrate a versatile precision beacon receiver module into their product.
The SBX-4 DGPS beacon module features: a dual channel design allowing for strongest
signal or new closest station (database) tracking, a ceramic filter blocks out-of-band
signals to optimize reception, reverse compatibility simplifies integration
with products based on the existing SBX-2 and SBX-3 modules, a boot loader ensures
firmware upgrade reliability, dual series ports to accommodate separate RTCM
and NMEA communications, certified IEC 61108-4 and RoHS compliant.
CSI's Hemisphere GPS division has also introduced its new Crescent R100 series
DGPS receiver. The Crescent R100 is the ideal solution for professional mapping,
guidance and navigation applications. It joins the Crescent A100 Smart Antenna,
Outback S2 and Outback BaseLine as the latest development to take advantage
of Hemisphere's powerful Crescent technology.
Powered by Hemisphere's Crescent technology, the R100 series features: 12 channel
L1 GPS receiver with code and phase measurements, reliable DGPS positioning
with less than 60cm accuracy and with an output rate of up to 20 times per second,
especially fast start-up and signal re-acquisition times, simple user interface
and status lights allow easy configuration and receiver monitoring, available
with several options for DGPS sources including satellite based augmentation
systems (WAAS, EGNOS), radio beacon and OmniStar corrections, compatible with
Hemisphere's exclusive L-Dif technology for applications requiring accuracy
less than 20cm, and radar simulated pulse output provides accurate ground speed.
These portable and versatile receivers also feature Hemisphere's exclusive
Coast and e-Dif technologies. Coast software enables Hemisphere GPS receivers
to utilize old differential GPS correction data for 40 minutes or more without
significantly affecting the quality of positioning. When using Coast, the user
is less likely to be affected by differential GPS signal outages due to signal
blockages, weak signals or interference. No competing products offer this flexibility.
e-Dif technology enables Hemisphere GPS receivers to achieve DGPS quality positioning
accuracies without the need for a differential signal. It is ideal for locations
where other differential services are limited or expensive. The Crescent R100
series will replace the SLXg3 and MAX series of receivers. -30-
Hemisphere GPS
End-row smart
Ag Leader Technology has introduced a new feature, called SeedCommand, to
its Insight display. SeedCommand implements the popular AutoSwath feature on
planters and seeders, allowing users to automatically turn individual planter
sections on and off, saving money on seed costs and making planting easier.
SeedCommand also allows growers to map variety/hybrid locations and record split-planter
operations for better record keeping and decision making.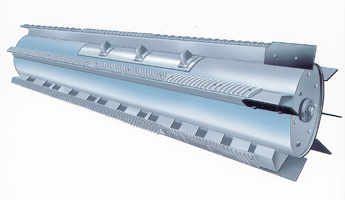 The power of SeedCommand comes from the AutoSwath feature for planters, which
automatically controls the Tru Count planter clutches. The clutches control
the seed meter drive from the planter transmission, enabling planter sections
to be turned on and off automatically based on already planted areas or areas
designated not to plant, which helps reduce over-planting of seed on end rows,
point rows and waterways. SeedCommand also saves time by eliminating the need
to slow down to accurately lift and lower the planter or seeder on end rows.
Ag Leader Technology has also introduced SMS Mobile to its family of software,
which already includes SMS Basic, SMS Advanced and the SMS Booklet module. SMS
Mobile is a powerful new software package that allows users to take SMS software
to the field on a Windows based mobile device.
SMS Mobile supports a number of in-field logging options. SMS Mobile provides
a boundary mode for defining or editing field boundaries. It also provides a
general logging mode that allows the logging and editing of points, lines or
polygons which is useful for logging tile lines or management zones. SMS Mobile
can log coverage data in coverage mode for tracking field operations such as
tillage or mowing. SMS Mobile will also feature a soil sampling mode that will
allow creation and/or navigation to an area to pull soil samples (available
in the fall of 2007).
SMS Mobile is designed to work seamlessly with SMS Basic and SMS Advanced desktop
packages. Field names, field boundaries, backgrounds (aerial photography, soil
and yield maps) and many other items can be transferred from SMS desktop packages
to SMS Mobile. This ensures efficient work in the field and that accurate information
is passed back to the desktop software.
SMS Mobile will be available in two different packages, the complete SMS Mobile
Field PC kit or SMS Mobile software only. The SMS Mobile Field PC kit includes
the rugged Field PC handheld, SMS Mobile software, secure digital memory card,
compact flash GPS, weather proof end cap, power cable and USB cable. SMS Mobile
software is also sold by itself and can be installed on any personal digital
assistant (PDA) running Microsoft Windows Mobile OS 5.0 or higher.
Ag Leader Technology
Accuracy to suit
Raven Industries has introduced its new Phoenix 300 GPS receiver which combines
Raven receiver technology with a Novatel OEM engine to present a dual frequency
(L1/L2), high performance receiver capable of utilizing multiple frequencies
and differential correction modes.
The Phoenix 300 is a WAAS CDGPS and OmniStar VBS capable receiver that can
be upgraded to OmniStar XP and HP (requires subscription service). It is capable
of both sub-metre and decimetre correction accuracies, dependent on the correction
signal being used. The Phoenix 300 also boasts such functions as simulated radar
output, replacing the need for a radar speed sensor, and AutoRestart mode, which
allows for quicker differential convergence times on start-up, making delays
a thing of the past.
Ideal for use with the Raven SmarTrax or new QuickTrax steering systems, as
well as with the Envizio Plus and RGL lightbar guidance systems, the Phoenix
300 uses a helix-style antenna for more efficient tracking of satellites that
are positioned low on the horizon. An in-cab receiver allows for instant access
to configurations and settings.
The Phoenix 300 provides an economical, scalable and ultra high accuracy DGPS
receiver in the same package. If the user decides that he needs a higher level
of accuracy than sub-metre for strip-till, planting or marking out rows, he
can activate the decimetre mode and use the OmniStar XP or HP correction signal.
Raven Industries also has new GPS receivers with the Phoenix 200 as the first
to be released in this new line, combining Raven receiver technology with the
latest Hemisphere GPS Crescent OEM engine. The Phoenix 200 presents an economical,
high performance sub-metre receiver capable of utilizing two differential correction
solutions.
The Phoenix 200 provides features and capabilities including:
Sub-metre, single frequency WAAS enabled receiver. Specifically designed
for use in areas where WAAS signals are weak, this is a great all-around receiver
for many different types of applications and equipment.
Upgradeable to the new e-Dif differential correction. e-Dif is a technique
that models the differential correction over a period of time and then applies
it to the GPS data to maintain a consistent, relative position. e-Dif is ideal
for locations where the WAAS signal is very weak or non-existent.
Uses a helix-style smart antenna for more efficient tracking of satellites
that are positioned low on the horizon. The receiver and antenna are housed
in the same enclosure for easy installation and portability to other machines.
Ideal for use with the Raven SmarTrax or new QuickTrax steering systems,
as well as with the Envizio Plus and RGL lightbar guidance systems.
Raven Industries
System integration designed
Case IH is improving customer productivity by making auto-guidance for cropping
systems more integrated, flexible and easy to use. The new Case IH AFS (Advanced
Farming System) Pro 600 colour monitor will be used with Case IH AccuGuide systems
to provide both curved and straight line guidance on the new Axial-Flow 7010
and 8010 series combines as well as Magnum and Steiger tractors.
The monitor is fully integrated. In addition to auto-guidance, the AFS Pro
600 handles yield monitoring and mapping tasks on all Case IH Axial-Flow combine
models, including the Axial-Flow 2577 and 2588 combines. In the spring, growers
can put the monitor back to work on Case IH Early Riser 1200 series planters
to manage planter functions and prescriptions, such as maps for variable seed
planting. This portability allows the operator to use one monitor for all tasks,
which saves money. It also saves time because the operator has to learn only
one system. Another feature of the AFS Pro 600 is login capability, which allows
the operator to log specific data on each field for precision passes every time
through.
Case IH
Software for variable rate maps
GTA400 Precision Farming PC software, new from AGCO Global Technologies,
will make it easier for farmers to work with field data, plan and carry out
single or variable rate application of crop inputs. The new product is the fourth
in a suite of user friendly software for PC products recently introduced by
AGCO to simplify gathering, transferring and analyzing data from tractor and
combine mounted GTA consoles, Fieldstar terminals and other sources.
GTA400 takes a brand neutral approach to creating 'planned jobs' such as variable
rate application of seed, fertilizer and crop protection products. With this
software, farmers have full control of their data. GTA100 Communicator facilitates
the transfer and organization of data logged on GTA consoles and Fieldstar terminals,
displaying it by farm, field or job, and exporting in formats compatible with
a wide array of farm management software. GTA200 allows users to plan, trace
and manage field operations including equipment and fuel, crop inputs and labour
using GTA100 and other data sources. GTA300 works with geo-referenced data collected
on GPS equipped in-cab terminals, allowing it to be turned into easily understood
reports or maps. All four software packages use a common 'key information at
a glance' format and database structure.
GTA400 capabilities include layer management, management zone creation, data
import and classification, nearest point interpolation, and creation of planned
and completed job maps. Layer management allows customers to visually compare
multiple maps by overlaying one image on another, such as a yield map over soil
test values or tile lines over a yield map. The former might simply verify the
impact of soil types on yield, while the latter might identify problems with
drainage.
GTA400 also makes it easy for users to create customized maps from imported
data sets. Specific colour and data range themes can be created and automatically
reused on similar data sets. GTA400 can make even sparse data sets more valuable
using nearest point interpolation. Information identified at scattered data
points is applied to surrounding areas for improved analysis and planning.
While GTA400 enhances data analysis through layer management and management
zone creation, application and other job map creation is at the heart of this
software product. It enables customers to create maps that will control variable
rate applications with VRT capable equipment. The maps can also be used with
GTA consoles, Fieldstar terminals or other in-cab terminals to manually control
application rates as well as seed varieties/hybrids or input products by management
zone. Management zone maps can also be exported to PDAs for field scouting or
for use with in-cab terminals.
AGCO Corporation
Headland and slope control
The GreenStar AutoTrac assisted steering system from John Deere helps operators
gain more efficiency in the field by reducing passes, saving fuel and reducing
operator fatigue. The system uses GPS to steer the vehicle down the field in
straight, curved or circular passes. The operator still must make turns at the
end of the row before re-engaging AutoTrac.
Now, John Deere 8030 series tractors outfitted with AutoTrac iTEC Pro can automatically
turn at the headlands and other boundaries, as well as automating implement
controls and ground speed. This module for the GreenStar 2 system allows implement
functions to be performed consistently on the headlands every time. This helps
reduce input costs such as fertilizer, seed and fuel by reducing headland skips
and overlaps. The system also provides additional accuracy by automatically
guiding the tractor during headland turns and making sure the machine is positioned
correctly for the next pass through the field.
For operations on hillsides or contour field conditions, there is a tendency
for slippage downhill by the implement that can take the machinery off track
when making passes through the field. John Deere has introduced iGuide, the
new implement guidance system, to help overcome implement drift and bring more
accuracy to AutoTrac operations, minimizing slips and overlaps. This new system
is compatible with John Deere AutoTrac integrated vehicles with GreenStar 2
systems, except 900 series tractors and tracked tractors. It will be available
for limited release in the spring of 2007.
Swath control for PT sprayers
Swath Control Pro, a system for 4710, 4720, 4920 and 4930 self-propelled sprayers
that automatically turns the sprayer's boom sections on and off according to
a GPS coverage map, is now available in the GreenStar 2 rate controller to automate
spray rate control and to enable Swath Control Pro on pull-type sprayers.
The GS2 rate controller automates spray rate control functions for pull-type
sprayers. It will replace the Raven SCS 440, 450 and 471 consoles, typically
used in pull-type sprayers and allow the GreenStar 2 display to take over the
spray rate control functions, says the company. It allows the sprayer to turn
boom sections on and off according to a GPS field map, which reduces spray overlap
and lowers input costs for the grower.
The GS2 rate controller reduces cab clutter by using only the GS2 display for
rate control, guidance, on-screen mapping, field documentation, map based prescriptions
and Swath Control Pro. The operator has excellent visibility on the colour GS2
display for all spraying functions and the touch screen makes it easy to operate.
John Deere
Weather station on your desk
The Vantage Pro2 is a sophisticated, affordable and personal, solar powered
weather station. Not only does it wirelessly transmit weather data from its
sensors to a console that sits on your desk, or where ever) every 2.5 seconds,
it collects historical data and even does forecasting. It tracks a huge number
of weather variables: temperature indoor and outdoor, barometric pressure, humidity,
rainfall, wind, wind chill and dew point. The Vantage Pro2 wireless weather
station is the first and only station in its price range to use frequency hopping
spread spectrum radio technology for achieving transmission distances of up
to 1000 feet (300m) of sight line.
Users can also set more than 70 alarms for multiple functions simultaneously.
They can graph the last 24 hours, days or months of readings, or highs and lows,
and view more than 80 graphs including additional analysis of temperature, rain,
rain rate, wind and barometric pressure without a computer. The ticker-tape
display shows forecast details and additional information with more than 100
different messages.
With state-of-the-art technology, Vantage Pro2 joins earlier models of Davis
weather stations already in use in agriculture, agricultural research, aviation,
amusement park safety, education, emergency management, environmental studies,
fire fighting, hospitals, hurricane research, Maritime transportation, scientific
research, utilities, vineyards, and by hobbyists and weather enthusiasts.
Davis Instruments