News
Can straight cut canola work?
Know the risks and rewards before selling the swather.
November 29, 2007 By Helen McMenamin
Straight combining canola can increase harvestable yields because the pods
fill better, but shelling losses can be greater than any advantage from letting
the crop stand. The risks depend on crop architecture and local weather patterns.
Some farmers use regular headers, while others are finding specialized headers
worth the investment.
Ken Motiuk of Mundare, Alberta, has straight combined his canola for 10 years.
"The margins on prairie crops are too low to justify swathing," he
says. "It's an unnecessary exercise." He is so committed to one step
harvest, he does not even own a swather. "We don't have any of the shrivelled,
green seed you get in a swathed crop," he says. "We get a better sample
with much larger kernels. The day you swath it, the crop starts to go backward."
Motiuk acknowledges the risks of straight combining, but says it is worthwhile
for him. "We've had shattering losses," he says, "but, anybody
who thinks they don't have shattering losses with a swather is in denial."
Combining with the Biso canola header.
Motiuk's irregular fields have trees and bush that usually take wind up and
over the fields to minimize wind damage. He likes to see a heavy crop with intertwined
branches knitting the canopy together so it moves as a unit rather than plants
moving separately.
To get that type of crop, Motiuk chooses a short variety with a weak main stem
and a lot of branches. He would like to see more varieties with plant architecture
that suits straight combining. "Most canolas on the market are tall, upright
types with few branches," he says. "They're easy to swath, but you
can't straight combine them. A variety that tangles and lodges is key to straight
combining."
Some years, Motiuk says, he probably should swath, but a grower cannot pay
for a swather that is only used in canola. He combines canola as soon as its
moisture drops below 12 percent.
"We could go at higher moisture, but it's touchy in the bin," he
says. "In the 11s, the combine rumbles some because of green stems, but
the longer the crop stands, the greater the shelling risk. All our bins have
aeration and we market canola quickly. Grain in the bin isn't money in the bank."
For the last two years, Gerald Aime of Clandeboye, northwest of Winnipeg, has
straight combined some of his canola. He has been pleased with the results.
"The first year, we tried it on 40 acres," he says. "It turned
out so well that last year, when some canola got too ripe on us, we just left
it to straight combine.
"We watched the combine to see how the crop went into the machine. I even
made a video so we could look really carefully. Setting the reel was tricky
and we were losing a little just ahead of the knife, but overall, I think we're
ahead." The big thing was kernel size. The seeds were at least 30 percent
bigger than from the same variety swathed. "It made a big difference in
the bin and we had no green seed in the straight cut crop."
Aime says that in his humid location, pods do not seem quite as prone to shattering
and that even if he receives a rain close to combining, it does not hurt if
there is a mist before the real rain. Straight combining will be a year-to-year
decision in the future, he says. Frost is also a worry for Aime. He would also
like a shear-type crop divider and an extension that puts the knife 24 inches
or so ahead of the table to reduce losses.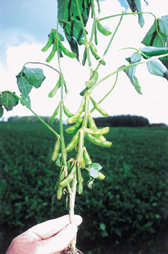 Ken Motiuk says the risks of straight combining are worthwhile.
Header extension can help
The Biso header (described in Top Crop Manager, November 2004) seems
to meet Aime's needs. It has a ridged pan that extends the distance between
the knife and the reel to 28 inches (70cm), so the crop can feed smoothly into
the combine. The pan catches and holds seeds that shell at the knife. Side shears
cut the crop cleanly and allow combining in either direction.
"I'd rather straight cut, any time," says Claudia Breckner of Grandview,
Manitoba, whose husband, Robert, is the North American distributor for the Austrian-built
Biso. "Straight cutting is so much easier on the combine," she says.
"No matter how careful you are swathing canola, you always get piles that
plug the combine. But with the header, you just drive. Since we got it, we haven't
plugged once. So, no blown rotor belts or other problems."
In 2004, the Biso header enabled some farmers to harvest their frosted and
rained-on canola much earlier than their neighbours who swathed.
"Crops around here were out for months with all the rain," says Wayne
Brecken of Clandeboye. "We spent a lot of money and time modifying a swather
for the mud, but we still couldn't travel. We bought a Biso and saved the crop.
I had tried straight cutting before, but figured we needed more distance between
the knife and the reel. The Biso gives us that, so pods that shatter stay in
the pan and the seeds all go into the tank. I'll straight cut again with the
Biso. You end up with more crop if you can leave it to fill naturally rather
than swathing it when it's still green."
"We usually straight cut everything but canola," says Kent Hanmer
of Govan, Saskatchewan. "Last year (2004), after the frost tightened up
the canola pods, we left some to straight combine. We used a Biso header beside
our HoneyBee draper headers. There was no comparison. The Biso was 90 percent
better. The speed was better and the crop laid down nicely and fed uniformly
into the threshing unit. It's tremendous technology."
"Straight cutting is definitely the way to go. There's one less pass across
the field, the crop isn't blowing away in big winds, you're not trying to swath
canola at the same time as you're combining peas and you're bound to get a better
sample. Now, we just need varieties for straight cutting," says Hanmer.
Clayton Kuchinka of Macoun, Saskatchewan, liked the Biso too. "The sample
was just unbelievable," he says. "It was black, with big seeds. Compared
to swathing, we saw a two bushel per acre yield advantage, two pounds per bushel
weight benefit and dockage of one or two percent instead of five percent."
A heavy, leaning crop is ideal for straight combining.
Assess the risks
Yorkton Canola Council agronomist, David Vanthuyne is not convinced straight
combining is worthwhile. In Canola Council trials, straight cut canola sown
at a three pound seeding rate averaged a 12 percent yield advantage over swathed
canola. There was no advantage to straight combining crops sown with a five
pound seeding rate. The difference on the three pound seeding trial was due
to better filling of seeds on secondary branches. In the Canola Council trials,
straight combining was compared to swathing at 30 to 40 percent colour change.
That recommendation for swathing has been adjusted to 60 percent to maximize
yield.
"Swathing also lets you even out maturity over the whole field,"
says Vanthuyne. "You may have 20 percent colour change in hollows, 40 on
the mid-slopes and 70 percent on the hills. You could wait 14 to 21 days for
the crop to dry enough to straight combine, more with damp weather. If you swath,
it could be in the bin in 14 days."
Standing crops, of course are at greater risk from hail, heavy rain or even
moderate winds. Vanthuyne has seen losses over 50 percent in standing crop,
but under three percent in swathed crops. Frost is also more damaging.
Straight combining is best, he says, in a heavy crop with a well-knit canopy
in a humid area where pods do not dry out too much. Harvest at 10 or 12 percent
moisture and use aeration bins. To minimize header losses, match your reel speed
to ground speed, so it barely pushes the crop onto the table.
In Canola Council trials, the Biso header put more seed in the bin than either
a regular header or swathing in 2003 and 2004. Crops were stressed and short
both years.
In 2003, straight combining put a little under a bushel more seed in the tank
(22.6 bushels) than swathing at 50 to 60 percent seed colour change (21.8 bushels).
The Biso header added almost another 1.5 bushels per acre (24 bushels) to that
yield.
In 2004, Breckner recorded an advantage of seven bushels for straight combining
over swathed crop even though it was badly affected by the August frost. Also,
there was no strip of shattered pods at the divider.
Robert Breckner figures he will take the risk of weather damaging his standing
canola as it matures and retire his swather. "Wind or rain only hurts the
top few pods," he says. "And, there are shattering losses in a swathed
crop too. In a better crop, I'll use a desiccant on a heavier crop to bring
harvest forward a bit."
A 30 foot Biso header costs about $20,000: much less than a new swather, says
Breckner. He figures the header can pay for itself by cutting out one harvest
operation or by boosting seed yields.